Access to obesity-related societies, associations, and organizations:
The obesity-related websites on this page are independently operated and not managed by Novo Nordisk. Novo Nordisk assumes no responsibility for any information they may provide.

Educational Downloads
Download obesity materials for your organization.
Rethink Patient Discussions
Get tips about how to address weight-management conversations with patients.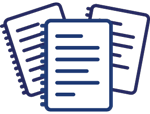 Keep Exploring
Find professional organizations related to obesity, treatment guidelines, and more.