A 5% to 10% weight loss may improve obesity-related comorbidities1-5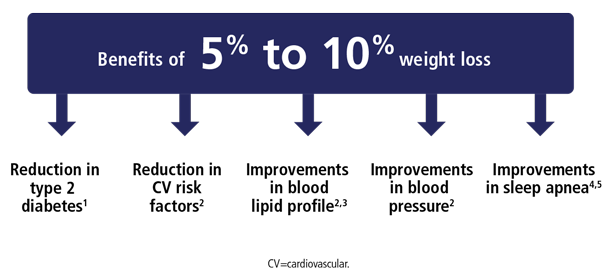 Also in The Science of Obesity:
Rethink Conversation Techniques
Learn about techniques such as behavioral therapy and motivational interviewing.
Keep Exploring
Find professional organizations related to obesity, treatment guidelines, and more.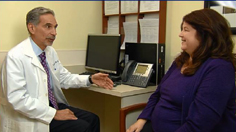 Ask, Listen, Inform
Our video, "Discussing Weight With Your Patients," can help you improve office conversations about obesity.
References:
Knowler WC, Barrett-Connor E, Fowler SE, et al; for the Diabetes Prevention Program Research Group. Reduction in the incidence of type 2 diabetes with lifestyle intervention or metformin. N Engl J Med. 2002;346(6)393-403.

Wing RR, Lang W, Wadden TA, et al. Benefits of modest weight loss in improving cardiovascular risk factors in overweight and obese individuals with type 2 diabetes. Diabetes Care. 2011;34(7):1481-1486.

Dattilo AM, Kris-Etherton PM. Effects of weight reduction on blood lipids and lipoproteins: a meta-analysis. Am J Clin Nutr. 1992;56(2):320-328.

Tuomilehto H, Seppa J, Uusitupa M, et al. The impact of weight reduction in the prevention of the progression of obstructive sleep apnea: an explanatory analysis of a 5-year observational followup trial. Sleep Med. 2014;15(3):329-335.

Foster GD, Borradaile KE, Sanders MH, et al; for the Sleep AHEAD Research Group of the Look AHEAD Research Group. A randomized study on the effect of weight loss on obstructive sleep apnea among obese patients with type 2 diabetes: the Sleep AHEAD study. Arch Intern Med. 2009;169(17):1619-1626.