A 5% to 10% weight loss may improve obesity-related comorbidities1-5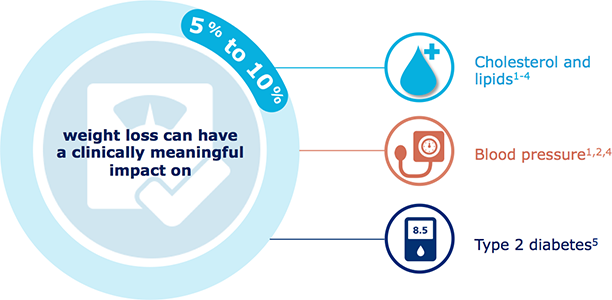 Also in The Science of Obesity:
Rethink Conversation Techniques
Learn about techniques such as behavioral therapy and motivational interviewing.
Keep Exploring
Find professional organizations related to obesity, treatment guidelines, and more.
References:
Wing RR, Lang W, Wadden TA, et al. Benefits of modest weight loss in improving cardiovascular risk factors in overweight and obese individuals with type 2 diabetes. Diabetes Care. 2011;34(7):1481-1486.

Magkos F, Fraterrigo G, Yoshino J, et al. Effects of moderate and subsequent progressive weight loss on metabolic function and adipose tissue biology in humans with obesity. Cell Metab. 2016;23(4):591-601.
Dattilo AM, Kris-Etherton PM. Effects of weight reduction on blood lipids and lipoproteins: a meta-analysis. Am J Clin Nutr. 1992;56(2):320-328.
Dengo AL, Dennis EA, Orr JS, et al. Arterial destiffeningwith weight loss in overweight and obese middle-aged and older adults. Hypertension. 2010;55(4):855-861.
Garvey WT, Mechanick JI, Brett EM, et al. American Association of Clinical Endocrinologists and American College of Endocrinology comprehensive clinical practice guidelines for medical care of patients with obesity. Endocr Pract. 2016;22(Suppl3):1-203.