Behavioral therapy
Behavioral therapy is a treatment component in weight management that provides patients with a set of principles and skills that help them to modify their current lifestyle habits, specifically as they relate to healthy eating and physical activity.1 The primary goal of behavioral therapy is to change behaviors and to maintain those changes over time. In order to maintain change, behavioral therapy techniques seek to maximize a patient's ability to effect change and engage in self-care.1 There are several skills and strategies commonly associated with behavioral therapy for weight management, including2:
Self-monitoring
Stimulus control
Behavioral substitution
Problem-solving
Cognitive reframing
Goal setting
Also in Professional Education:
Additional Resources
Find professional organizations related to obesity, treatment guidelines, and more.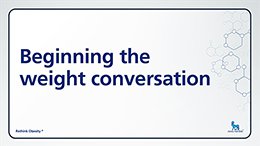 The Weight Conversation
This video provides tips on productive discussions about weight with your patients.
References:
Adachi Y. Behavior therapy for obesity. JMAJ. 2005;48(11):539-544.
Fabricatore AN. Behavior therapy and cognitive-behavioral therapy of obesity: is there a difference? J Am Diet Assoc. 2007;107(1):92-99.