Obesity is a chronic disease requiring long-term management1-5
Professional associations have recognized obesity as a global health challenge requiring a "chronic disease management model."1,5
"Obesity is a chronic disease, prevalent in both developed and developing countries, and affecting children as well as adults."1
—World Health Organization (WHO)

"Recognizing obesity as a disease will help change the way the medical community tackles this complex issue that affects approximately one in three Americans."2
—American Medical Association (AMA)

"...the full force of our medical knowledge should be brought to bear on the prevention and treatment of obesity as a primary disease entity."3
—American Association of Clinical Endocrinologists (AACE)

"It is the official position of The Obesity Society that obesity should be declared a disease."4
—The Obesity Society (TOS)

Obesity is a complex disease influenced by multiple factors, including genetic, physiological, environmental, and behavioral.6

Also in The Science of Obesity: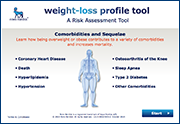 Risk Assessment Tool
Learn about potential risks for your patients who have obesity and discover how weight loss may impact their comorbidities and mortality.

Disease vs. Lifestyle
Obesity study shows how views of people with obesity and health care professionals differ
Rethink Patient Discussions
Get tips about how to address weight-management conversations with patients.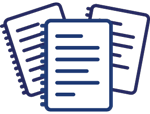 Keep Exploring
Find professional organizations related to obesity, treatment guidelines, and more.
References:
World Health Organization. Obesity: preventing and managing the global epidemic. Report of a WHO consultation. World Health Organ Tech Rep Ser. 2000;894:1-253.
American Medical Association. AMA adopts new policies on second day of voting at annual meeting. http://www.ama-assn.org/ama/pub/news/news/2013/2013-06-18-new-ama-policies-annual-meeting.page. Accessed March 11, 2015.
Mechanick JI, Garber AJ, Handelsman Y, Garvey WT. American Association of Clinical Endocrinologists' position statement on obesity and obesity medicine. Endocr Pract. 2012;18(5):642-648.
Allison DB, Downey M, Atkinson RL, et al. Obesity as a disease: a white paper on evidence and arguments commissioned by the Council of the Obesity Society. Obesity. 2008;16(6):1161-1177.
Jensen MD, Ryan DH, Apovian CM, et al; American College of Cardiology/American Heart Association Task Force on Practice Guidelines; Obesity Society. 2013 AHA/ACC/TOS guideline for the management of overweight and obesity in adults: a report of the American College of Cardiology/American Heart Association Task Force on Practice Guidelines and The Obesity Society. J Am Coll Cardiol. 2014;63(25 pt B):2985-3023.
Obesity Education Initiative; National Heart, Lung, and Blood Institute; National Institutes of Health; US Department of Health and Human Services. Clinical Guidelines on the Identification, Evaluation, and Treatment of Overweight and Obesity in Adults: The Evidence Report. Bethesda, MD: National Institutes of Health; 1998. NIH publication 98-4083.