Keys to Successful Conversations
Insights that will help to optimize discussions about weight management
Collaboration, counseling, and medical support from health care professionals may help patients achieve clinically significant and maintained weight loss. Studies have shown that successful conversations between health care professionals and patients help patients to be more successful with their weight-loss goals.1
The weight discussion can be an uncomfortable one, which makes word choice especially important.2 Other communication strategies like active listening, empathy, and encouragement can produce positive health outcomes for patients.3
Studies link communication behaviors such as empathy, encouragement, and psychosocial talk with improved patient satisfaction and adherence.3,4 Studies have shown that when health care providers advised overweight and obese patients to lose weight, change their eating habits, or become more active, they were more likely to do so. While frequent discussions with patients about weight management are helpful, it is the quality of the discussions that actually lead to behavioral changes.4
There are a few keys to incorporate in your communications with patients about their weight.
Also in Professional Education:
Additional Resources
Find professional organizations related to obesity, treatment guidelines, and more.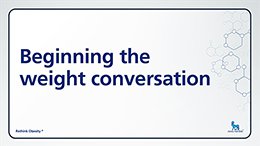 The Weight Conversation
This video provides tips on productive discussions about weight with your patients.
References:
Rose SA, Poynter PS, Anderson JW, et al. Physician weight loss advice and patient weight loss behavior change: a literature review and meta-analysis of survey data. Int J Obes (Lond). 2013;37(1):118-128.
Wadden TA, Didie E. What's in a name? Patients' preferred terms for describing obesity. Obes Res. 2003;11(9):1140-1146.
Beck RS, Daughtridge R, Sloane PD. Physician-patient communication in the primary care office: a systematic review. J Am Board Fam Pract. 2002;15:25-38.
Pollak KI, Øsbye T, Alexander SC, et al. Empathy goes a long way in weight loss discussions. J Fam Pract. 2007;56:1031-1036.