Associated Risks
The chronic and progressive impact of obesity
Associated Risks
The chronic and progressive threat of obesity
Obesity is a disease that can impact more than your patients' weight
The complications associated with obesity affect multiple organ systems. According to the Obesity Medicine Association (OMA), there are 57 comorbidities associated with obesity.1,2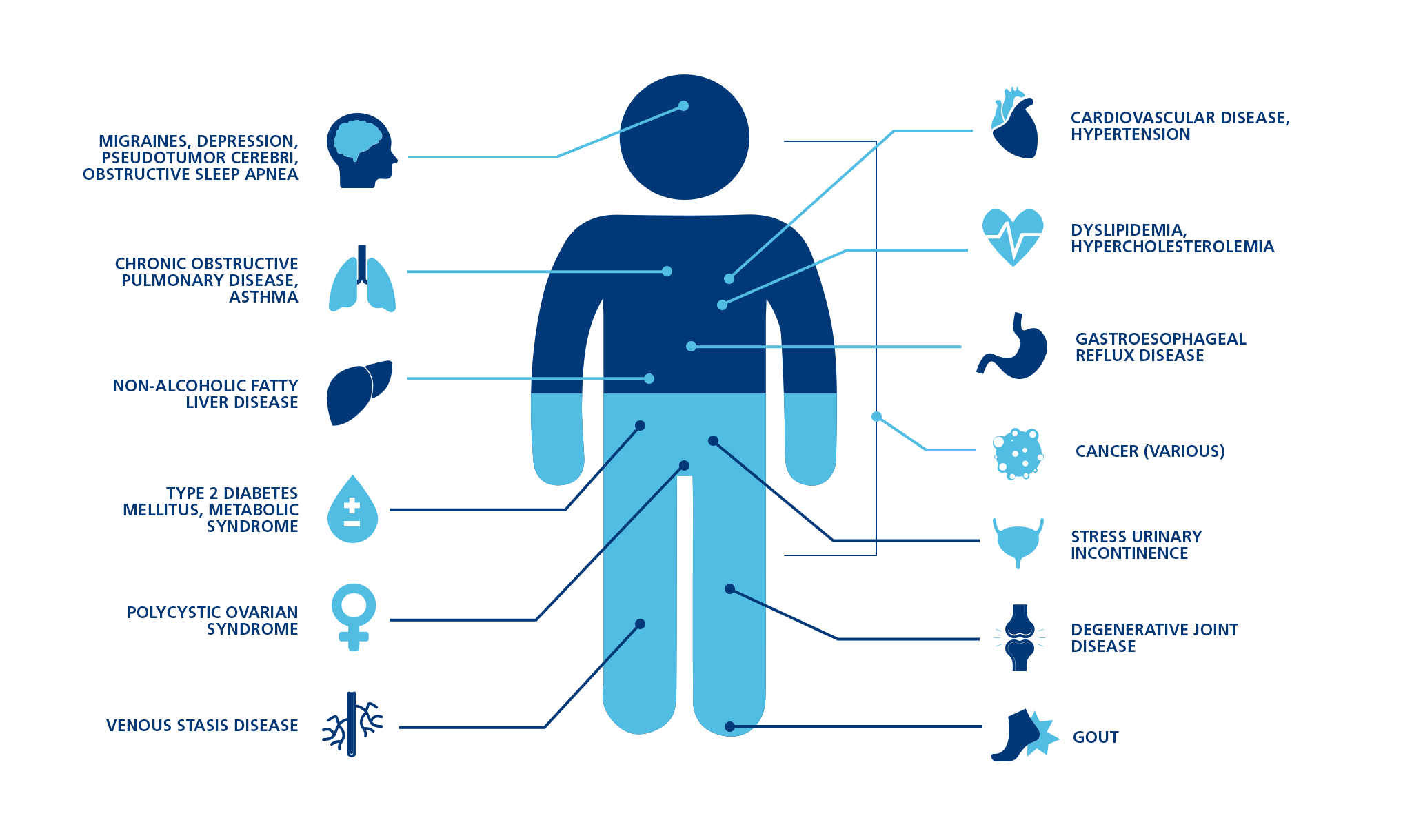 Migraines, Depression, Pseudotumor cerebri, Obstructive sleep apnea
Chronic obstructive pulmonary disease, Asthma
Non-alcoholic fatty liver disease
Type 2 diabetes mellitus, Metabolic syndrome
Polycystic ovarian syndrome
Venous stasis disease
Cardiovascular disease, Hypertension
Dyslipidemia, Hypercholesterolemia
Gastroesophageal reflux disease
Cancer (various)
Stress urinary incontinence
Degenerative Joint Disease
Gout

The above list is not exhaustive and is intended to illustrate only a range of key complications.
Increased BMI results in higher risk of mortality
For every 5 kg/m2 BMI increment above the range of 22.5-25 kg/m2, there is a 30% increase in overall mortality.3,4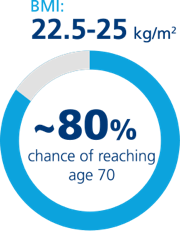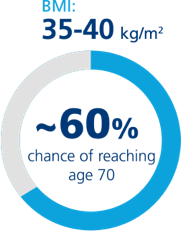 The younger patients with obesity are, the higher the risk of losing years off their life5
See how obesity affected Patty's life

Risk Assessment Tool
This external tool will help you determine your patients' risk.

Risk Assessment Tool
This external tool will help you determine your patients' risk.
A total weight-management plan
Two-thirds of patients want to discuss their weight6
1. Bays HE, Seger JC, Primack C, et al. Obesity algorithm 2016-2017. Presented by the Obesity Medicine Association. https://obesitymedicine.org/obesity-algorithm. Accessed June 9, 2018.
2. Garvey WT, Mechanick Jl, Einhorn D. The American Association of Clinical Endocrinologists and the American College of Endocrinology: 2014 advanced framework for a new diagnosis of obesity as a chronic disease. Endocr Pract. 2014;20(9):977-989.
3. Bray GA, Kim KK, Wilding JPH. Obesity: a chronic relapsing progressive disease. A position statement of the World Obesity Federation. Obes Rev. 2017;18(7):715-723.
4. Prospective Studies Collaboration, Whitlock G, Lewington S, et al. Body-mass index and cause-specific mortality in 900 000 adults: collaborative analysis of 57 prospective studies. Lancet. 2009;373(9669):1083-1096.
5. Grover SA, Kaouache M, Rempel P, et al. Years of life lost and healthy life years lost from diabetes and cardiovascular disease in overweight and obese people: a modelling study. Lancet Diabetes Endocrinol. 2015;3(2);114-122.
6. Golden A, Dhurandhar NV, Jinnett K, et al. Insights and perceptions of obesity management in people with obesity: results of the National ACTION Study. Poster presented at: ObesityWeek 2016; October 31-November 4, 2016; New Orleans, LA. Poster T-P-3178.